Almost everyone has a blogging platform, even their dogs do! But, is that blog platform getting all the traffic? Are you really spending quality time with your customers? Or, soon you might realize that barely anyone is reading the blogs. If so, then you must not worry.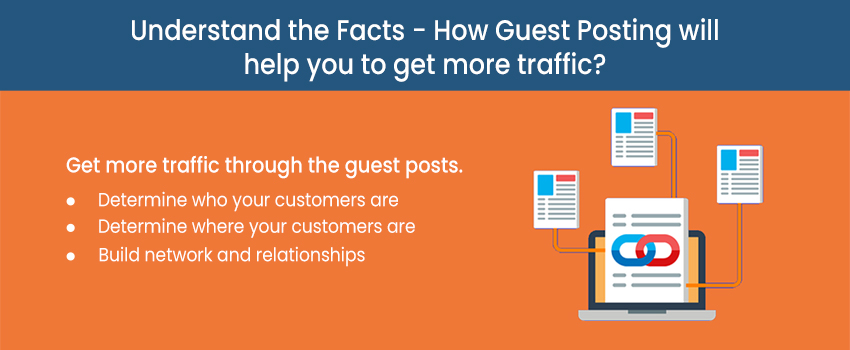 You may start guest blogging. Or if you have a business, then too, your business would profit with all the guest blogs you use up. This helps in creating backlinks to your website or products or services. Thus, making it trustworthy for all the customers as well as the search engine crawlers.
It all comes down to how well you handle the guest blogs for your organization or your personal site. Because if you do not know what you are doing, then you are on the wrong path. Here are some points for you to consider before you think guest posting might be a wrong idea.
How to get more traffic through the guest posts?
Are you looking to increase more website traffic to your website? Or, are you seeking more visitors to your social media pages? How about you start guest blogging? If you believe that guest blogging has no use in what you deal with, then you are wrong. Guest blogging improves the SEO of the website and thus can help in increasing brand awareness. This, in turn, leads to a boost in the number of visitors on websites, conversion, and overall sales and revenue.
Determine who your customers are
First, before you jump into guest blogging, know who your audience is! Are you a niche for kids, for beauty, or for corporations? Depending upon the kind of audience you look for in your website and as your potential customers, you must consider the prospective guest blogging platforms. Take time to think over and work upon the kind of audience you would like to target with your blogs.
Determine where your customers are
After this, you need to analyze where your customers are. Whether they are on social media only- if yes, then which social media. Find out the kind of blogs or content your audience reads or prefers to come across. Understand their psychology to bring them what they need concerning your services and products.
Build network and relationships
With an effective blog and content along with images, you can really attract a lot of customers. Sometimes, it is not enough how well you write. In fact, you must consider the network and the relationships you build to use that written content. Only when you have editors in contact or a person who can relate to your niche- also their audience is similar to your needs. Then, you may give it a try to see if things could work out.
Are you looking for a professional to help you boost website traffic in Markham? Then, you must contact the professionals at BaseCreative today. They have professionals who are aware of the techniques needed to increase website traffic through guest posts.