Yay! We are into 2021! It is time we start to dominate our world and make the most of a brand with the use of the best 2021 digital marketing tips. Of course, every year the trend changes, and thus consumer behaviour. A digital marketer has to analyze the psychology of the consumer outside to serve them their needs without making them compelled for it.
As we enter this year, it is essential to nail the marketing with advanced digital marketing tips in our hands. There is a clear demand for huge digital communications. After all, people are buying more smartphones and laptops compared to the bricks and mortar shops.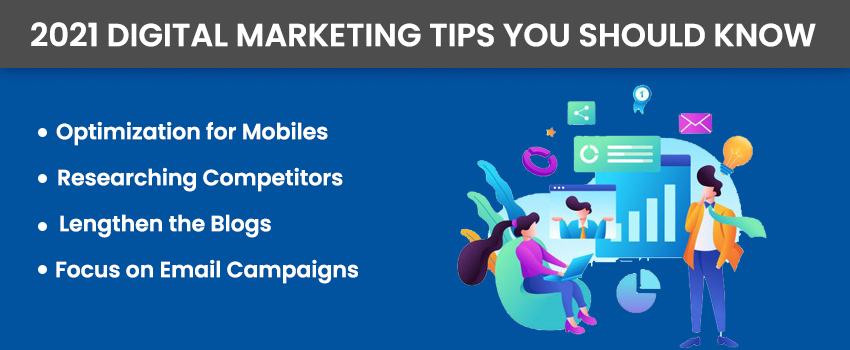 Are you ready to discover digital marketing tips to adopt the tricks and tips? Let's scroll up!
Optimization for Mobiles
Mobiles are the most widely and extensively used device all over the world, a lot more than desktops or laptops. In 2019, there was 53% of global website traffic from smartphones. This shows that your website should be responsive to devices and prepare for such a surge.
Also, it is seen in a study that about 4% of people were reluctant to buy from a brand if they were not responsive and had uneasy navigation. It needs re-formatting of content, the images, and the entire layout to make sure that they are easy for mobile users. The visitor shall spend the least time on sighing and squinting or more time on clicking with no destined path.
Researching Competitors
You are not the only business in the industry or the market. Thus, researching your competitors to know how they are playing and help your brand to grow and develop the right strategies. One can always learn from the other's mistakes. So, by researching the fellow brands, you learn about their positive and negative points.
This will enable you to have the right kind of blog content, images, and concept to include in your website. Analyze their services, reviews, and how they reached that point. Use different tools to analyze their site and add the right things to yours.
Lengthen the Blogs
Digital marketing is incomplete without blogs. So, cutting right into it! Not always less is more! In terms of blogs, the more the merrier! If you keep your blogs long, you will have 9 times increased chance of bringing in new customers compared to the shorter ones. So, making short and sweet blogs is not what you want.
The average word count that helps in ranking better is about 1200. However, only 19% of companies have blogs above 750. And, you need to make sure that your blog is about anything business-related.
Focus on Email Campaigns
Email Marketing is not a piece of old news. People are more active in their emails and you can easily tap via them to reach the desired and potential buyers. It is seen that about every dollar, email marketing brings 40 times more ROI (Return on Investment). Thus, to encourage people to come to your website, email is one of the best ways! You can either thank them after making a purchase and add them to the subscriber list.
Moreover, the welcome email is the best, to begin with. It brings more open and clicks rates. This makes consumers feel more welcomed and entices them to visit the website. The average open rate is observed by about 82%. On the other hand, you must have automated responses in case of an abandoned cart or push them about discounts.
Are you looking for the right firm or service provider that can help you get the best digital marketing tips and rank your brand? You must choose BaseCreative – The best Digital Marketing Markham.
They have trained and experienced professionals who work on the strategies to bring the best digital marketing services for a brand. There are multiple platforms online that offer you the ultimate email campaigns. So, leap and start email marketing.