Graphic design tools are important for a web designer. Like every batman needs a robin, every talented graphic designer needs an excellent designing tool. From redesigning an image for sales or remodeling your logo, graphic design has its application all over the web. What makes you stand out from the competition is your professionalism and the efficiency of the graphic designing tools you use.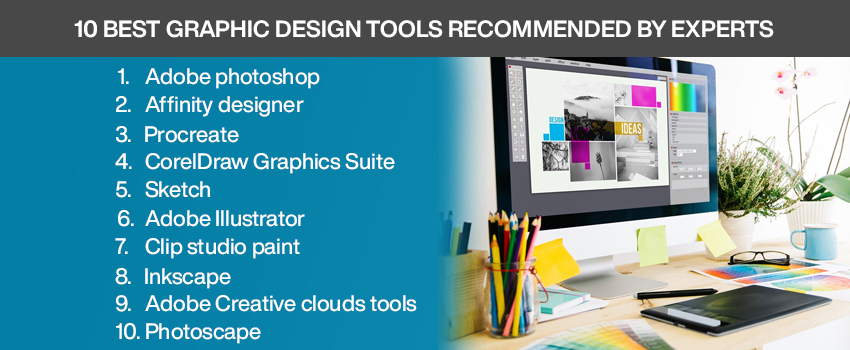 In an era of digital marketing taking the market by storm, graphic designers have seen their demand rise to a new high. This resulted in the launch of many web designing tools on the internet. But recognizing which tool is authentic and provides the feature you need is the trick. The list has been made by Base Creative after comparing a good deal of software by the experts who have big names in the field.
1. Adobe photoshop
The best in the market, this web designing software is the wizard of the graphic designing world. This is a photo designing and manipulating software with many tools depending upon the device of use. Being the world's most trusted graphic designing software, there is very little to complain about.
2. Affinity designer
Affinity designer is the best alternative of Adobe illustrator as it's cheaper, capable, and user friendly. Any beginner can use it as a teaching software to learn. Even professionals use their premium tools to create amazing content. This software boasts of an efficient grid designer with a deep zoom.
3. Procreate
This is an iPad specific software that illustrates anything for designing. Designers can use apple pencils and create the design as they think of it. This costs around $10, so it's affordable and easy to use. The layering structure gives it an upper hand over other software. Since it is only used on Apple iPad, it has some features that would work better with apple pencil.
4. CorelDraw Graphics Suite
Corel draw is a powerful editing tool that has been the favorite for many designers. Corel draw has an immense library of the image, video, and graphic templates that can be accessed by its users. Payments are flexible and available in unique plans that suit your requirement. The user interface is efficient and there is a very smooth transition from desktop to tablet/mobile mode.
5. Sketch
The sketch is a vector-based graphic tool. This is best suited for app, web, and interface designing. It is available at a low cost and works equally well for mobile users. It has on-screen templates that are easily accessible. Sketch autosaves design step by step to protect the loss of data. A yearly subscription costs $100.
6. Adobe Illustrator
This is the most preferred tool for illustrative artwork, page layouts, corporate logos, website mop-up, and whatnot. Being the leader in these fields, it is also an image and video designing software that makes it the industry benchmark in vector creation tools. It creates graphic files in small sizes to make them easily shareable.
7. Clip studio paint
Experts love this software because of its optimized design which makes it easier to use on low spec computers and devices. This software is good for graphic designers on a budget. Digital artists dig clip studio paint's simple collection of illustration apps because of its simplicity, mirror feature, and affordability.
8. Inkscape
Inkscape is capable of graphic designing software, best suited for hobbyists or beginners because of its user-friendly design in the vector software segment. It has open-source code so users can manually improve the software as per their needs. The robust and efficient web developing a team of Inkscape keeps it updated with the latest market trends.
9. Adobe Creative clouds tools
This software supports graphic designing, video editing, and web development. This is established in the industry because of its advanced cloud computing system. Any list of graphic designing software would be incomplete without this.
10. Photoscape
Photoscape, as the name suggests, offers indispensable features form editing and managing photo archives. It positions itself as an exceptional free graphic design tool.experts in the field love its batch editor feature, which is the best feature.
Choosing from the above software can help you make the perfect design with little confusion and effort. Contact Base Creative today and get the best graphics with perfect tools.